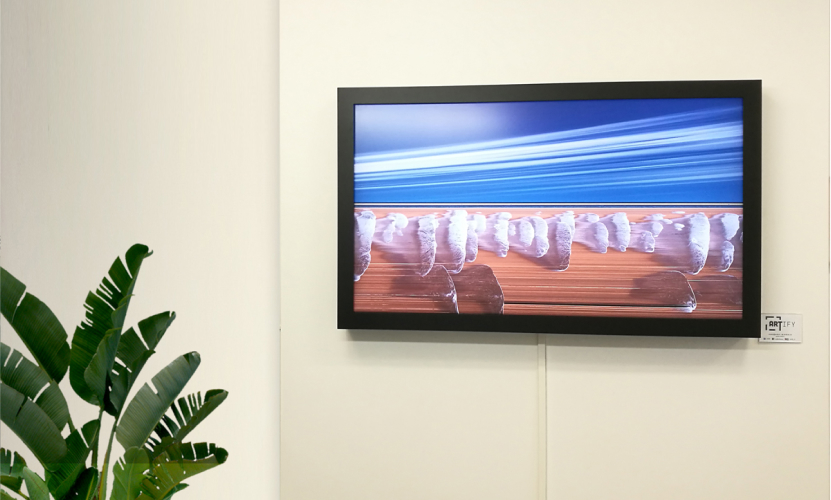 Home of the Syntec Federation
The Syntec Federation has chosen the « Discover Art » offer to enhance its lobby. Visitors are immediately immersed in the innovative nature of the Federation.

Matthieu Rosy, General Delegate of the Syntec Federation

Audiens Group Arts & Letters Café
The Audiens social protection group selected the "Explore Art" offer to transform its corporate restaurant into an art gallery. A great way to offer a space for cultural relaxation to its employees.

Stéphane Lecoq, Strategic Marketing Manager
Beyond the individual interest of employees in the works, the connected board provokes many exchanges between colleagues, which contributes positively to the well-being of all.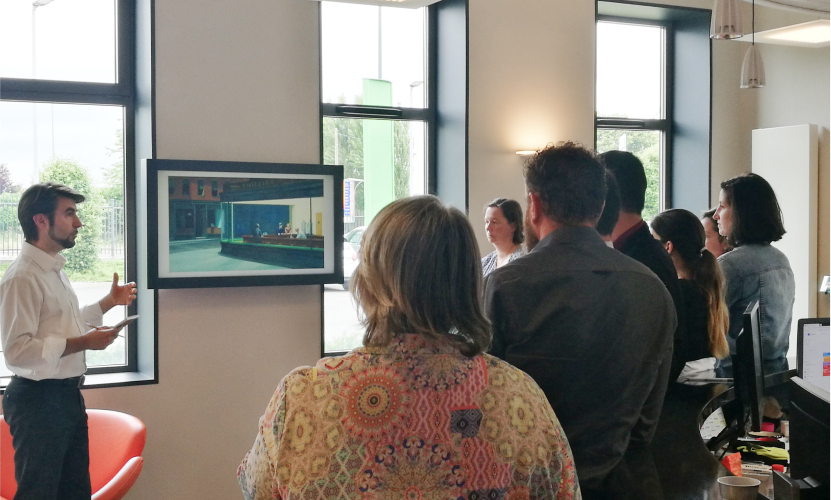 Actual Recruitment and Interim Group has subscribed to the artistic mediation workshops of the "Dialog with Art" offer. Every month in the reception hall, the Artify connected board becomes a meeting and cultural exchange point between employees.

amuel Tual, President of Actual Leader Group
What I found great is that beyond seeing the painting on the connected board, we spend a moment together with a specialist who helps us decode it

"Art and Wine" evening with Crédit Agricole clients
Crédit Agricole Anjou Maine, through our "Meet the Art" event service, took its clients on board for an evening, for an artistic and oenological trip. Within the framework of the Village by CA Laval, this unique experience allowed them to interact with works of art presented on our connected board while tasting a glass of wine.

Jean-Marc Freard, Director of Agence Espace Pro Banque Privée Laval
Thanks to the collaboration of Simon Cau (Artify) and Anthony Aulnette (La Cave du Château), beautiful stories were told to our customers and all of them actively participated in this unique evening on Art and Wine!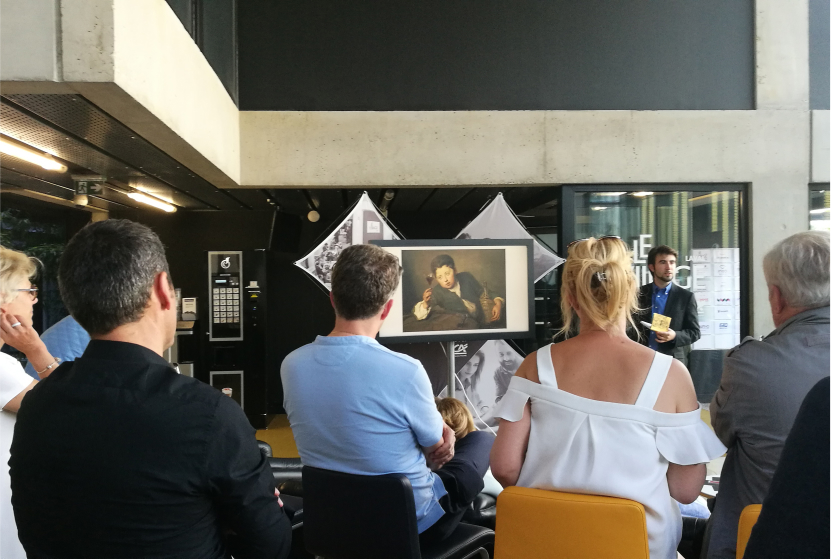 Willy Ronis exhibition at the Pavillon Carré de Baudouin

The Town Hall of the 20th arrondissement of Paris, the Media Library of Architecture and Heritage, the department of the Ministry of Culture chose Artify to enrich the Willy Ronis exhibition. Thanks to our "Exhibiting Art" service, two connected tables enabled more than 80,000 visitors to admire 590 photographs and the comments written by the artist. A superb complement to the 192 photographs which were displayed.

Ronan Guinée, in charge of the Willy Ronis fund at MAP
The solution proposed by Artify combined playful interaction with the public, increased access to photographs and texts that we could not display as a whole, and respect for display on screens of high visual quality.